The 2021 Subaru Love Promise Community Commitment Award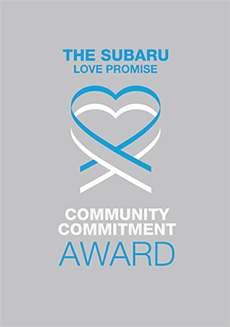 We've been nationally recognized for our dedication to our community and the Subaru Love Promise.
We're honored to receive the 2021 Subaru Love Promise Community Commitment Award. This award nationally recognizes Subaru retailers who are making the world a better place while demonstrating an outstanding commitment to supporting passions and causes in local communities. These efforts are focused in important areas such as the environment, community, health, education, and pets.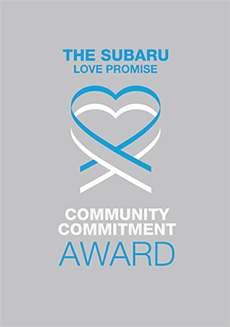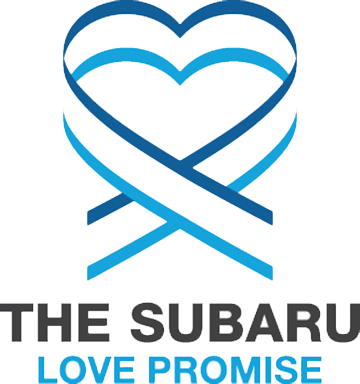 What is the Subaru Love Promise?
Subaru and our retailers believe in making the world a better place and the Subaru Love Promise is our vision of respecting all people. This is our commitment to show love and respect to our customers and to work to make a positive impact in the world.
How is Larry H. Miller Subaru Boise dedicated locally to the Love Promise?
Our Love Promise can be seen in various partnerships with local charities, non-profits, and community events. We're grateful for the opportunity, not only to be a part of our community, but to serve it as well. We are proud to show by our actions that we are not only a great organization to work for, but also to do business with. It is the goal of the Larry H. Miller company that we enrich the lives of those around us and make the communities that we do business in a better place because we are here.
Idaho Humane Society, The World Center for Birds of Prey
Selway Bitterroot Frank Church Foundation, Boise Urban Garden School
Boise Bicycle Project, Sage International School
Rake Up Boise, Boise Rescue Mission, Big Brothers Big Sisters of Southwest Idaho
Leukemia and Lymphoma Society, Wellright
Love Promise Stories from Larry H. Miller Subaru Boise
Subaru and Larry H. Miller Subaru Boise believe in making a positive impact on the communities in which we live and work. We uphold that belief through our Love Promise Community Commitment. Every month, we select inspiring stories from customers and partners from around our area who strive to support our collective commitment and feature them here
Helping Fund Goal of Youth Residential Care Center - Stacey M
All we can say is WOW! Thank you so much to our compassionate friends at Larry H. Miller Subaru Boise for their generous gift to the Idaho Youth Ranch Residential Center for Healing & Resilience. We're so grateful for your support. Here's what it means and how it will help: Hailey came to Idaho Youth Ranch when she could no longer carry the burden of early abuse and neglect. At sixteen, she attempted suicide and, following her hospital stay, came to Idaho Youth Ranch Hays House. She spent the early years of her life in a home where addiction and violence were the norms. Despite being adopted when she was five, the trauma she experienced before she could read or write has haunted her entire life. You gave her the safety and therapy she needed to see that she was in a state of crisis, but Hailey needed more. Sadly, there was nowhere in Idaho for her to go… yet. Hailey spent nine months at a long-term residential facility in Arkansas. "It just really sucks that there's nowhere in Idaho for kids like me. I had to be sent to Arkansas to get the help that I needed. "When Hailey completed her program in Arkansas, she returned home to Idaho where she stayed at Idaho Youth Ranch Hays House until she turned eighteen. "It's hard. It's just so hard. It's hard to be sent away. It's hard to spend holidays by yourself. It's hard when you make plans and they fall through. Now, I've been on both sides of it. I knew how hard it was to be sent away, and now I know how hard it is to see my brother get sent away and not be able to check on him and see how he's doing. "Hailey is one of over 120 Idaho kids on Medicaid who are sent to live out of state every year because there is nowhere in Idaho for them to go. "I would want people to know that this kind of trauma is more common than you think. When you're dealing with trauma and then you're sent out of state, it just adds to it and adds to it. You don't get to be around your family. You don't get to be in your home. This is not something that people just talk about. This is the reality for a lot of kids like me. And it is much more common than you think." For kids like Hailey—those whose families don't have the resources or private insurance to get in-state care—getting help usually means sending kids out of state. On average, every three days an Idaho family sends their child out of state. Unfortunately, we know that long-term treatment success declines when: ● Families are not involved in treatment ● Additional trauma is created due to separation from family. ● There is a lack of therapist continuity during aftercare. ● Youth don't have local coordination to re-enter school and the community. That's why we are bringing them home! On May 13, 2021, Idaho Youth Ranch broke ground on the new Idaho Youth Ranch Residential Center for Healing & Resilience. This 64-bed, long-term residential facility will serve one hundred kids like Hailey every year, right here in Idaho. With your help, the new facility will provide: ● Year-round school ● Individual and group therapy spaces ● Dining hall and indoor/outdoor recreation spaces ● Health center ● Aftercare for kids and families Larry H. Miller Auto's support will help provide young people with 24-hour nursing, psychiatric care, proven treatment models and a year-round school. Designed and modeled after leading national facilities, the Residential Center for Healing & Resilience will include medication reduction, nutrition and physical fitness in a secure environment with 24-hour supervision. All this care is in support of one goal: helping kids heal and return to their families and communities in a safe and supported manner. These kids need Idahoans to come together to bring them home. Your dealerships support help make it possible for these young people to get the help they need to overcome trauma, reconnect with their families and step forward into a promising future right here in Idaho. "I'm just so excited that this resource is going to be available to kids here in Idaho. I'm a little sad that it wasn't available for me or my brother, but knowing that soon kids like me won't have to be sent away anymore gives me so much hope. That there are so many beds is amazing! The facility I was at only had sixteen beds and every one of them was filled by kids from Idaho."
---
Dealerships Unite for Days of Caring - Chris D
Further demonstrating the power of collaboration and whole-hearted commitment to community causes, staff from across the Larry H. Miller Boise family volunteered with the United Way of Treasure Valley and its Women United group to help pack lunches for local children. These 'Days of Caring' groups assembled more than 21,000 boxed lunches [besting the initial goal!] for students in need. The Larry H. Miller ladies took action knowing their efforts will help ensure kids enter a new school year prepared to learn and less concerned with access to a healthy meal. Pictured from left are Robyn Parsons Paffendorf [United Way of Treasure Valley Grant and Development Manager], Jen Friedrich [Larry H. Miller Honda Boise], Tara Christman [Larry H. Miller Subaru Boise] and Kaitlin Cox [Larry H. Miller Chrysler Jeep Dodge Ram Boise].
---
Day of Service - Tara C
Each year the Larry H. Miller Group of Companies pays tribute to their founder, the late Larry H. Miller, with an annual "Day of Service", by participating in community service projects in seven Western states. Employees in Utah, Arizona, Idaho, Colorado, New Mexico, Washington and California volunteer for several hours that day every year to assist organizations such as local boys & girls clubs, food and clothing banks, emergency shelters and other community agencies. Service provided benefits at-risk youth, senior citizens, families of critically ill children, domestic abuse victims, individuals in need of food and shelter, and many others. Gail Miller, owner of the LHM Group, said, "Larry understood the importance of giving back to the community and made it an integral part of his life. Participating in this day of service is a wonderful way for our organization to carry on his legacy of helping others." This year, LHMS spent their Day of Service by volunteering at the local Metro Meals on Wheels foundation with preparing and serving meals as well as packaging frozen and home delivered meals. Since 2010 over 3,750 employees donating over 15,000 hours have helped give back to their communities in which they live and work.
---
Being Taught Generosity - Laura C
Basin School District in Idaho City would like to extend our deepest gratitude for the generous donation of reusable water bottles from Larry H. Miller Subaru. At the beginning of the school year, our school district had to turn off the drinking fountains at the school to reduce the spread of COVID-19. Each student is required to have their own reusable water bottle at school each day. We will now have enough bottles to supply every student with their own for the upcoming school year. It is so important for the students to know that there are organizations in our extended community that are willing to give back. It is a character trait we are hoping all students learn. Thank you Larry H. Miller for your help!
---
Feeding America - Going the Extra Mile - Tara C
As part of Subaru's Feeding America campaign, Larry H. Miller Subaru in Boise partnered with the Idaho Foodbank to help feed people in need in leu of the Covid-19 crisis. In addition to donating meals, employees spent a day volunteering their time and labor at the foodbank and were able to pack over 100 mobile pantries to be delivered to rural Idaho areas along with sorting and packing over 1000 lbs of dried beans! Feeding America is the nation's largest domestic hunger-relief organization with 199 food bank relationships, serving 60,000 food pantries across the country. It was an incredibly rewarding day for the employees at Larry H. Miller Subaru to personally make a difference toward combating this very real crisis happening right now in our communities in a hands-on way!
---
200+ Pajamas Donated to Local Homeless Shelter - Tara C
Employees from Larry H. Miller Dealership's four Boise locations delivered more than 200 pairs (or four cart-fulls) of pajamas for Boise Rescue Mission's Women and Children's Shelters. The dealerships hosted a pajama drive from Nov. 9 – Nov. 30 as part of their "Driven to Assist" initiative. New pajamas and pajama sets in all sizes for women, boys and girls were collected for guests staying at the organization's City Light Home for Women and Children in Boise, and the Valley Women and Children's Shelters in Nampa. Guests will receive a special Christmas care package with a new pair of pajamas included.
---
The Story of Blaze - Beth N
He's got the wiggliest little booty. And the perkiest, softest ears. And a great big heart that he wears on his furry sleeve. Blaze, at 22 months old, this young man was looking for his forever home. He sits like a champ. Daintily offers his paw. Plays a mean game of fetch (and sometimes returns the ball!) -- so, basically, he's a total charmer. Once he gets to know you. Making friends with Blaze is a fairly easy process. You've just gotta stand sideways, baby talk him, and toss chunks of hot dog. When humans respect his space, he is willing to hang out with them. But if they approach him and invade his bubble, he'll let them know to back off. Well, one day, Blaze met his new mama and it was love at first sight! She had always wanted her own dog and waited a long time, but it was so worth the wait. Blaze was there to lend a paw. Someone to take him for long walks in the park and to cuddle with after. The story of Blaze is just beginning.
---
Marvin, the Girl - Beth N
There once was a gorgeous, sweet, black and white little girl named Marvin who came to Meridian Canine Rescue looking for a good home. People were always referring to her as "him" and she just had to look at you and you knew, she was a girl! The rescue was a little scary for her, so she went to stay with a really nice foster Mom, Jen. It took a little time for her to settle in, but she crawled into her Jen's lap one day and she decided she liked it. Over time, Marvin became more at ease and her personality developed to a point where she could finally find her furever home. Marvin was very popular and we received calls from people all over the US wanting to adopt her. Little did she know, her new family was right in the neighborhood. After seeing her photos on the website, her new family knew they had to meet her. It didn't take long for them to fall in love with Marvin and Marvin knew she had found the right people. She now lives happily in a home with a yard, near hiking trails and a park which make her very happy. She even got a new brother! Her foster Mom, Jen still keeps in touch cuz it's hard to forget how Marvin touched her life.
---
Pretty in Pink - Beth N
Little Nina certainly found the perfect new home. This is the story that her adopters passed along to us. It's been almost three weeks since Nina has joined our family. She is just a joy, moved right in and has taken over. She loves to chase her pink dog and her balls. We found more of her favorite Spike red ball you gave us and bought four more. They are all over the house. She has been busy meeting Berkeley and Quincy the dogs we sit when their parents go out of town. She runs like a jack rabbit when they chase each other. We also think she has mountain goat and Greyhound in her. She loves sitting on the back of the couch. At night she cuddles in between us in her fluffy bed. It's funny we noticed that originally her name was Foxy. Everyone says she looks like a little fox. She is adorable and we love her. Thank you for choosing us.
---
Blanket Donation to City Light Home for Women - Tara C
Through our Love Promise, a commitment to support our local communities, Larry H. Miller Subaru Boise is supporting Boise Rescue Mission - City Light Home for Women & Children, to help people in need this winter season. More than 500,000 Americans experience homelessness each night. This November, as part of Subaru Loves to Help and in recognition of National Homeless Youth Awareness Month, Subaru and Larry H. Miller Subaru Boise will be donating 50,000 blankets to local homeless shelters across the country to help youth and all people who are without homes. As we enter the season of giving and nights get colder, we want to do our part in making a difference to those who need our help.
---