The 2021 Subaru Love Promise Community Commitment Award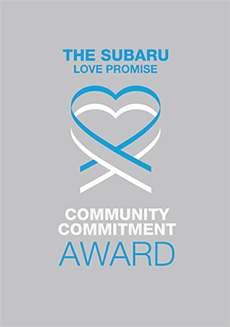 We've been nationally recognized for our dedication to our community and the Subaru Love Promise.
We're honored to receive the 2021 Subaru Love Promise Community Commitment Award. This award nationally recognizes Subaru retailers who are making the world a better place while demonstrating an outstanding commitment to supporting passions and causes in local communities. These efforts are focused in important areas such as the environment, community, health, education, and pets.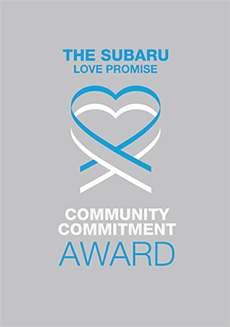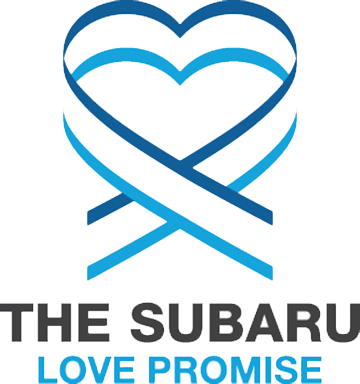 What is the Subaru Love Promise?
Subaru and our retailers believe in making the world a better place and the Subaru Love Promise is our vision of respecting all people. This is our commitment to show love and respect to our customers and to work to make a positive impact in the world.
How is Larry H. Miller Subaru Boise dedicated locally to the Love Promise?
Our Love Promise can be seen in various partnerships with local charities, non-profits, and community events. We're grateful for the opportunity, not only to be a part of our community, but to serve it as well. We are proud to show by our actions that we are not only a great organization to work for, but also to do business with. It is the goal of the Larry H. Miller company that we enrich the lives of those around us and make the communities that we do business in a better place because we are here.
Idaho Humane Society, The World Center for Birds of Prey
Selway Bitterroot Frank Church Foundation, Boise Urban Garden School
Boise Bicycle Project, Sage International School
Rake Up Boise, Boise Rescue Mission, Big Brothers Big Sisters of Southwest Idaho
Leukemia and Lymphoma Society, Wellright
Love Promise Stories from Larry H. Miller Subaru Boise
Subaru and Larry H. Miller Subaru Boise believe in making a positive impact on the communities in which we live and work. We uphold that belief through our Love Promise Community Commitment. Every month, we select inspiring stories from customers and partners from around our area who strive to support our collective commitment and feature them here
Day of Service - Tara C
Each year the Larry H. Miller Group of Companies pays tribute to their founder, the late Larry H. Miller, with an annual "Day of Service", by participating in community service projects in seven Western states. Employees in Utah, Arizona, Idaho, Colorado, New Mexico, Washington and California volunteer for several hours that day every year to assist organizations such as local boys & girls clubs, food and clothing banks, emergency shelters and other community agencies. Service provided benefits at-risk youth, senior citizens, families of critically ill children, domestic abuse victims, individuals in need of food and shelter, and many others. Gail Miller, owner of the LHM Group, said, "Larry understood the importance of giving back to the community and made it an integral part of his life. Participating in this day of service is a wonderful way for our organization to carry on his legacy of helping others." This year, LHMS spent their Day of Service by volunteering at the local Metro Meals on Wheels foundation with preparing and serving meals as well as packaging frozen and home delivered meals. Since 2010 over 3,750 employees donating over 15,000 hours have helped give back to their communities in which they live and work.
---
Being Taught Generosity - Laura C
Basin School District in Idaho City would like to extend our deepest gratitude for the generous donation of reusable water bottles from Larry H. Miller Subaru. At the beginning of the school year, our school district had to turn off the drinking fountains at the school to reduce the spread of COVID-19. Each student is required to have their own reusable water bottle at school each day. We will now have enough bottles to supply every student with their own for the upcoming school year. It is so important for the students to know that there are organizations in our extended community that are willing to give back. It is a character trait we are hoping all students learn. Thank you Larry H. Miller for your help!
---
Feeding America - Going the Extra Mile - Tara C
As part of Subaru's Feeding America campaign, Larry H. Miller Subaru in Boise partnered with the Idaho Foodbank to help feed people in need in leu of the Covid-19 crisis. In addition to donating meals, employees spent a day volunteering their time and labor at the foodbank and were able to pack over 100 mobile pantries to be delivered to rural Idaho areas along with sorting and packing over 1000 lbs of dried beans! Feeding America is the nation's largest domestic hunger-relief organization with 199 food bank relationships, serving 60,000 food pantries across the country. It was an incredibly rewarding day for the employees at Larry H. Miller Subaru to personally make a difference toward combating this very real crisis happening right now in our communities in a hands-on way!
---
200+ Pajamas Donated to Local Homeless Shelter - Tara C
Employees from Larry H. Miller Dealership's four Boise locations delivered more than 200 pairs (or four cart-fulls) of pajamas for Boise Rescue Mission's Women and Children's Shelters. The dealerships hosted a pajama drive from Nov. 9 – Nov. 30 as part of their "Driven to Assist" initiative. New pajamas and pajama sets in all sizes for women, boys and girls were collected for guests staying at the organization's City Light Home for Women and Children in Boise, and the Valley Women and Children's Shelters in Nampa. Guests will receive a special Christmas care package with a new pair of pajamas included.
---
The Story of Blaze - Beth N
He's got the wiggliest little booty. And the perkiest, softest ears. And a great big heart that he wears on his furry sleeve. Blaze, at 22 months old, this young man was looking for his forever home. He sits like a champ. Daintily offers his paw. Plays a mean game of fetch (and sometimes returns the ball!) -- so, basically, he's a total charmer. Once he gets to know you. Making friends with Blaze is a fairly easy process. You've just gotta stand sideways, baby talk him, and toss chunks of hot dog. When humans respect his space, he is willing to hang out with them. But if they approach him and invade his bubble, he'll let them know to back off. Well, one day, Blaze met his new mama and it was love at first sight! She had always wanted her own dog and waited a long time, but it was so worth the wait. Blaze was there to lend a paw. Someone to take him for long walks in the park and to cuddle with after. The story of Blaze is just beginning.
---
Marvin, the Girl - Beth N
There once was a gorgeous, sweet, black and white little girl named Marvin who came to Meridian Canine Rescue looking for a good home. People were always referring to her as "him" and she just had to look at you and you knew, she was a girl! The rescue was a little scary for her, so she went to stay with a really nice foster Mom, Jen. It took a little time for her to settle in, but she crawled into her Jen's lap one day and she decided she liked it. Over time, Marvin became more at ease and her personality developed to a point where she could finally find her furever home. Marvin was very popular and we received calls from people all over the US wanting to adopt her. Little did she know, her new family was right in the neighborhood. After seeing her photos on the website, her new family knew they had to meet her. It didn't take long for them to fall in love with Marvin and Marvin knew she had found the right people. She now lives happily in a home with a yard, near hiking trails and a park which make her very happy. She even got a new brother! Her foster Mom, Jen still keeps in touch cuz it's hard to forget how Marvin touched her life.
---
Pretty in Pink - Beth N
Little Nina certainly found the perfect new home. This is the story that her adopters passed along to us. It's been almost three weeks since Nina has joined our family. She is just a joy, moved right in and has taken over. She loves to chase her pink dog and her balls. We found more of her favorite Spike red ball you gave us and bought four more. They are all over the house. She has been busy meeting Berkeley and Quincy the dogs we sit when their parents go out of town. She runs like a jack rabbit when they chase each other. We also think she has mountain goat and Greyhound in her. She loves sitting on the back of the couch. At night she cuddles in between us in her fluffy bed. It's funny we noticed that originally her name was Foxy. Everyone says she looks like a little fox. She is adorable and we love her. Thank you for choosing us.
---
Blanket Donation to City Light Home for Women - Tara C
Through our Love Promise, a commitment to support our local communities, Larry H. Miller Subaru Boise is supporting Boise Rescue Mission - City Light Home for Women & Children, to help people in need this winter season. More than 500,000 Americans experience homelessness each night. This November, as part of Subaru Loves to Help and in recognition of National Homeless Youth Awareness Month, Subaru and Larry H. Miller Subaru Boise will be donating 50,000 blankets to local homeless shelters across the country to help youth and all people who are without homes. As we enter the season of giving and nights get colder, we want to do our part in making a difference to those who need our help.
---
Employees Volunteer at the Local Foodbank - Tara C
Larry H. Miller Subaru Boise is passionate about helping and giving back to the community whenever possible and was eager to accept the opportunity to volunteer at The Idaho Foodbank. Employees donated their hours at the foodbank warehouse by packing and sorting food. Those hours resulted in the completion of nearly one hundred boxes containing staple food supplies to be shipped out to remote Idaho families. It was a 'hands-on' experience (literally), that was both humbling and rewarding to be able to help fight hunger here in Idaho.
---
Donating Meals to Families in Need - Tara C
Larry H. Miller Subaru Boise has always felt that giving back to the community has been, and will continue to be, an integral part of fulfilling its' values and representing what the "Subaru way" means. Now more than ever is when it becomes apparent that communities need to work together toward preserving and growing the resources that protect the livelihood of its' citizens. Larry H. Miller Subaru Boise was proud to be a small part of this by donating meals to the families currently staying at the Ronald McDonald House Charities of Idaho. The Ronald McDonald House supports families of ill or injured children and are able to keep those families together, giving them a place to rest and refresh. They work diligently 'to enrich lives' which is exactly what Larry H. Miller Subaru Boise's mission is.
---
Employees That Go Above and Beyond - Tara C
Many of Subaru's stories shed light on how the organization is making a positive difference in the community on a grand-scale level which makes it easy to overlook the small acts of kindness that occur on a small, personal level that can sometimes appear insignificant but are actually the drop, in which ripples out through the community and makes the biggest impact of all. In the last couple of months Larry H. Miller Subaru of Boise has seen some of its employees manifest this concept by going above and beyond all expectations. The following letter was sent in from a member of the community who was touched by the kindness extended from a Larry H. Miller Subaru Boise employee while on his way home from work: "My wife and I were having vehicle problems after stopping for gas in Fruitland, Idaho. I was sure our VW Rialta was vapor-locked due to the heat. After waiting a couple of hours and starting to lose hope, Mike happened by on his way home from work. He was the first person to ask if we needed help. After phoning his friend who is more familiar with VW motors, he quickly diagnosed the problem and found a faulty connection wire to the starter. As hard as my wife tried to give him money for his time, Mike would not accept any money. It's great to know there are quality young people willing to lend a hand. Thanks again Mike!" Another example includes a woman whose car broke down in the middle of a busy street near the dealership. Three employees spotted the distressed woman and quickly rushed to her aid and pushed her vehicle out of the road where she was able to safely get it towed to a repair shop. She was so grateful to the employees of Larry H. Miller Subaru Boise that she later came in and bought breakfast for the whole Sales department! Lastly, because Larry H. Miller Subaru Boise has many life-long customers, the empathy for these customers tends to run deeper than a "customer" basis. One of these such customers recently found herself falling on hard times and her mode of transportation was too. Amid the hot summer months, her car's AC went out and the windows would no longer roll down among a long list of several other issues. She needed a reliable car but due to her current circumstances could not quite afford the cost of another car. When the employee's caught wind of her dilemma they pitched in out of their own pockets and raised the additional money needed to get her into a reliable vehicle. It's these simple acts of kindness that start with a single individual that make the most profound changes and it's these scenarios which directly emanate Larry H. Miller's values of integrity, hard work, stewardship, and service.
---
Donating Masks to Local Healthcare Facilities - Tara C
Amid the pandemic crisis, Larry H. Miller Subaru Boise wanted to be true to its mission "to enrich lives" and seized the opportunity to aid the local healthcare system who are selflessly fighting on the front lines of the COVID-19 virus. Larry H. Miller Subaru Boise was able to donate over 4,000 N95 masks to local hospitals within the Treasure Valley along with around 300 ear-relief extension bands. Many healthcare facilities have been in high demand for face masks and other personal protective equipment and Larry H. Miller Subaru Boise is honored to have contributed to the people who are caring for and enriching the lives of our community during these trying times.
---
Larry H Miller Subaru Boise Charities 2019 - Bridget R
Thank you so very much for your donation to our Equine-Assisted Therapy program at our Hands of Promise campus. Thanks for your faith in the Idaho Youth Ranch - Stacey Moody Working with horses has been a proven method of emotional recovery and one of the most unique services offered by Idaho Youth Ranch. Kids who act out are often reacting from deep pain or anger they don't understand and can't explain. Dark memories can be frightening to deal with. And for abused or neglected kids, trusting anyone—especially an adult—is too great of a risk. They've learned to protect themselves by shutting out people who try to reach them. It can be tough for a clinician to help a child who can't or won't talk about what they're feeling. That's where horses come in. There is an intuitive connection between animals and children. The experience of interacting with a horse—a sympathetic, gentle giant who doesn't lie, doesn't judge, sees through pretense, and communicates without words—can be powerfully trans-formative. At Idaho Youth Ranch, we've seen how time spent with horses has helped hundreds of at-risk kids through a special treatment model called Equine Assisted Psychotherapy (EAP).
---
Subaru Loves Learning 2019 - Bridget R
In an effort to make a positive impact on education of our local community, Larry H. Miller Subaru Boise supported The American Association for the Advancement of Science (AAAS) by donating award-winning science books to Jefferson Elementary School and South Junior High School as part of a larger Subaru of America, Inc. At Larry H. Miller Subaru Boise we are dedicated to making a positive impact in the world in which we live and work."Jefferson students and staff would like to Thank Subaru for their generosity and acknowledging the importance of reading and science. The students are very excited about the new books and can't wait to check them out. The teachers have also come by and are really excited about the titles. So again we thank you Larry H. Miller Subaru!" Tracy Rhoades Elementary Librarian
---
Subaru Delivers Subway in Boise - Grant J
When Subway selected Metro Meals on Wheels as their local Subway Cares partner for the month of September, we wanted to somehow include our new Subaru in the month-long promotion. When the Subway Cares promotion was announced to the local media, the Subaru was used front and center. On the day of delivery of Subway sandwiches to our home bound seniors, we utilized the Subaru. Our veteran volunteer, Paul, was proud to deliver the generously-donated Subway sandwiches in the generously-donated Subaru. For the day, the Subaru was affectionately known as Subway Subaru! The incredible partnership between Subaru of America, Larry H. Miller Subaru of Boise and Subway restaurants in the Boise metro area meant a great deal to our nearly 1,000 recipients of meals. Thank you, Subaru.
---
Helping Local Animals for Subaru Loves Pets Month - Amanda S
In celebration of Subaru Loves Pets, we have been collecting supplies needed to keep animals healthy, happy and ready to find homes. We also provided Subaru Loves Pets shelter supply kits, created in partnership with BARK for the second consecutive year. The curated kits include various items aimed at improving the well-being of shelter animals awaiting adoption, such as chew toys, reusable water bowls, bath wipes, and tennis balls. Also this month, with the help from a grant from Subaru of America and the ASPCA, we were honored to host a fee-waived adoptions event in partnership with the Idaho Humane Society and found forever homes for seven dogs and one cat. Not only did we grant several fee-waived adoptions during this event, but for the fourth year in a row, we also placed free microchips in 100 local pets. Losing a pet is a devastating thought to most pet owners so we are always excited to offer this service to our community to provide some peace of mind.
---
Showcasing our Commitment to Education - Amanda S
In an effort to make a positive impact on education of our local community, Larry H. Miller Subaru Boise supported The American Association for the Advancement of Science (AAAS) by donating award-winning science books to Jefferson Elementary School and South Junior High School as part of a larger Subaru of America, Inc. (SOA) initiative this month called Subaru Loves Learning. Throughout the month of August, Larry H. Miller Subaru Boise collected school supplies and asked customers to personalize custom labels for books to be donated to Jefferson Elementary School and South Junior High School. Over 150 science books were delivered. The Subaru Loves Learning initiative reflects SOA's desire to improve the education and the lives of those in the local communities where we live and work. Throughout the month, both SOA and local retailers across the country have shown their commitment to education in a variety of ways – all part of the larger Subaru Love Promise Community Commitment effort dedicated to making a positive impact in the world in which we live and work.
---
Harriet Turns 100 - Grant J
Our new Subaru Outback was "front and center" when we recently celebrated Harriet's 100th birthday. She receives hot, nutritious meals each weekday through Metro Meals on Wheels. On the occasion of her special birthday, volunteer Kevin delivered her meal as he often does. To mark the day, Metro Meals on Wheels also delivered a birthday cake, card, and flowers. When I told Harriet that we had brought everything in the car that she has seen in the Larry H. Miller Subaru television commercial, she asked for her walker, and made her way to toward the front door. Harriet loved the Subaru, and when she posed for a photo with Kevin, she remarked that she would like to drive the car. Her daughter quickly jumped in and said, "I don't think that would be a good idea, mom!"
---
Spreading Messages of Love and Hope - Amanda S
With the help of the local chapter of the Leukemia and Lymphoma Society, we were able to donate eighty blankets, several craft kits for kids and "messages of hope" written by our customers and employees to cancer patients at St. Luke's Mountain States Tumor Institute. The messages of hope were collected at the dealership throughout the month of June as part of the Subaru Loves to Care initiative. We also gave away reusable shopping bags to help raise awareness for blood cancers. It was such a pleasure to visit with the patients and hospital staff.Thank-you to everyone that stopped in to share their messages of hope and helped us to make this a very successful and inspiring event again this year.
---
Subaru Boise Supports Canine Companions - Michelle W
Canine Companions for Independence, a national non-profit organization that provides expertly-trained assistance dogs to children, adults and veterans with disabilities free of charge, was thrilled to receive the support of Larry H. Miller Subaru Boise as a part of their Subaru Loves to Care campaign. On the evening of Thursday, June 21, local Canine Companions graduates with their assistance dogs and volunteers with their Canine Companions puppies in tow came to the dealership for an open house. Larry H. Miller Subaru Boise invited the community to learn more about the organization, and mingle with Canine Companions supporters, volunteers, graduates, assistance dogs and puppies. It was a wonderful event and everyone had a great time! Dogs enjoyed Smart Biscuit treats from local company Zamzows, and people enjoyed delicious ice cream courtesy of Ben & Jerry's Downtown Boise. A wonderful time was had by all! The cost of a Canine Companions assistance dog is estimated at $50,000, and events like these that allow us to raise awareness of and funds for the organization, are integral to our success. Canine Companions assistance dogs are given to people with disabilities free of charge, and we couldn't do it without wonderful supporters like Subaru! Canine Companions for Independence is thrilled to receive the support of Larry H. Miller Subaru Boise. Thank you, Subaru Boise!!!!
---
Women's & Children's Alliance Children's Services - Jennifer S
The Women's and Children's Alliance (WCA) is incredibly honored and grateful to have been chosen as one of the nonprofit partners for the Share the Love campaign. At the WCA, we provide safety, healing and freedom from domestic abuse and sexual assault for clients and their children. We do this through counseling, shelter, case management, support groups, financial literacy, and court services.We will use the generous funding from Subaru to support our children's programming. Our young clients have access to our Child Care program in both of our shelters and downtown location. We also help heal children through play therapy, a form of counselling or psychotherapy in which play is used as means of helping children express or communicate their feelings. In 2017, our clinicians provided counseling for 102 new child clients. In May and June of 2018 alone, we provided 1,148 safe bed nights for children and 87 counselling sessions for 23 children.It is because of our generous community, such as Subaru and their incredible customers, that the WCA is to provide all our services at no cost to clients. Thank you to all who supported us during the Share the Love campaign! You have helped give hope and healing to our young clients throughout the Treasure Valley."Thank you for all the amazing things you have done. You turned all the bad things into good things for us." – Devin, age 8
---
Working to Preserve the Environment we Love - Amanda S
Loving the earth means more than loving the great outdoors. It means working to preserve it. That is why we have partnered with Terracycle for our Subaru Loves the Earth initiative for 2018. Terracycle offers recycling programs for hard-to-recycle waste such as coffee/tea capsules, disposable coffee cups and lids and snack wrappers. Beginning in April through the end of 2018, we will have several designated boxes to collect these specific waste items. The full boxes will be sent to Teracycle to recycle into permanent products such as park benches, playground equipment and everyday household items. In the fall we will purchase and donate items produced from the recycled products to a local community organization. Stop in to learn more about the program or to bring in your own hard-to-recycle items for recycling!
---
Day of Service with Boise Urban Garden School - Amanda S
Our employees had the awesome privilege to volunteer for one of our Love Promise partners, Boise Urban Garden School ("BUGS"). We have partnered with BUGS because we wholeheartedly support their vision of helping students make connections between environmental sustainability, healthy eating and science in the garden environment. We worked in several of BUGS's community gardens, getting them cleaned up and ready for this year's gardening season. We look forward to our continued partnership with BUGS and watching the gardens and their educational programs bloom this year!
---
Idaho's Most Vulnerable Kids - Whitney S
It has been said that to do well in business, you must do good in the community. Larry H. Miller is a powerful example of this idea. Today, 2 out of 3 Idaho kids is struggling with adversity that will leave them with lifelong emotional and physical scars. Our kids are coping with stresses that include abuse, assault, neglect, separation, homelessness, and mental illness on a scale never before seen in our country. Since 1953, Idaho Youth Ranch has been focused on helping such children develop the strength and resiliency to transform trouble into triumph and promises futures through therapeutic interventions designed to help young people transform childhood trauma into hope. We never turn a family away based on their ability to pay for services. This is only possible through the generous support of people and organizations like Larry H. Miller. The money they raised through the Subaru Share the Love event is enough to provide 63 days of safety and shelter for a homeless child; provide 11 young people with 16 sessions of behavioral therapy needed to teach them mindfulness, strength, and resiliency; provide 8 families with 13 sessions of family therapy that will help open communication and bring them back together; or provide more than 8 young people the life-changing benefits of 12 sessions of equine therapy. We are so grateful to Larry H. Miller and hope for their continued support for years to come.
---
Meals on Wheels Delivered in New Subaru - Grant J
Larry H. Miller Subaru "puts their money where their mouth is when it comes to supporting local causes in the Boise community, including Metro Meals on Wheels. As part of the "50 Cars for 50 Years" campaign, Metro Meals on Wheels was a lucky recipient of a 2018 Subaru Outback. Larry H. Miller Subaru went all out on the official "unveiling" of the new vehicle. But, their support for Metro Meals on Wheels didn't stop there. The new Metro Meals on Wheels Subaru and meal delivery to home bound seniors are featured in an advertisement on local television and radio stations. Thanks to Larry H. Miller Subaru and their support and awareness efforts, the vehicle has become somewhat of "a celebrity" on local streets. The drivers often get a "thumbs up" from nearby motorists while stopped at a traffic light, or are on the receiving end of an excited "There's the Meals on Wheels Subaru!" from pedestrians on a street corner or in a parking lot.
---