Auto Body Repair and Collision Shop in Boise
Our fully equipped collision repair shop can handle your auto body repair needs. We operate closely with insurance companies to ensure that your vehicle returns to a like-new state quickly. The paint shop works tirelessly to match all colors and trims, yielding a factory-quality finish. From a mild fender bender to a more serious car crash, no one likes a car accident. Allow our trained professionals to complete your automobile restoration to manufacturer-specified standards.
The knowledgeable and friendly staff at our Boise Subaru body shop are ready to assist you with your collision repair needs. We offer a state-of-the-art body shop facility with Subaru Certified technicians, trained to restore your Subaru vehicle to its pre-accident condition. Larry Miller Subaru's collision center has the latest technology and resources available to ensure customer satisfaction every time.
We now provide a Mobile Estimate Service! If you can't get your vehicle to the shop for an estimate we will come out to you! We cover the Boise, Meridian and Eagle area, although special considerations for further travel may be arranged upon request. Give us a call at 208-947-6578 to set up your mobile estimate.

Additional auto body services
We also provide car window tinting, paintless dent removal, wheel restoration and detailing services. Our skilled auto body team is ready to make your car shine!
Contact our Boise auto body repair shop by phone at 208-947-6578. We are located at 222 Auto Dr. in Boise.

Ask Us a Question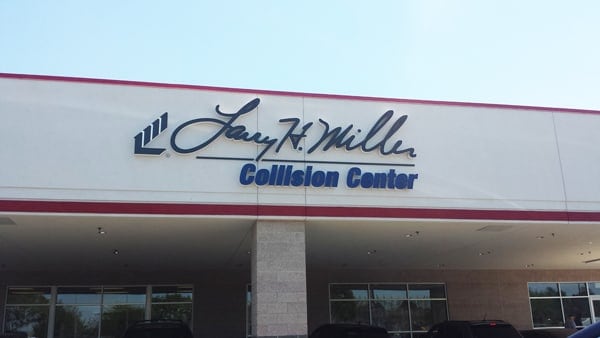 Collision Center FAQ's:
Do I have the right to select the shop that will repair my car?
Yes. In order to expedite your claim, select one of our repair shops; leave your automobile there; and notify your insurance company or agent.
Do I have to get three estimates?
No. Notify your agent or insurance company. Your insurance company may need to inspect your damage. If your insurance company has a drive-in claims service and your car is safe to drive, you should call them for an appointment. Once your damage is estimated, make sure you get a copy of the estimate, and take it and your automobile to a shop of your choice. Some insurance agents may tell you to get two or three estimates. Talk to your insurance adjuster first. Generally, the insurance company's claims department, not agents, handles claims.
Is the estimate free?
Yes. The estimate is absolutely free and may take about 20 to 30 minutes depending upon the damage.
What if my insurance company doesn't approve your estimate?
At Larry H. Miller Collision Centers, we have relationships with virtually all insurance companies and independent adjusters in the state. This gives us the ability to work with insurers to make certain that every repair needed is approved before we begin work.
Do I need to pay anything when I drop off my car?
No. You will only have to pay your deductible (if it applies) when you pick up your vehicle. Please notify your collision consultant at the time of drop off if you have received any payments from the insurance company.
Does the shop receive payment from my insurance company or do I pay for the repairs?
The shop receives payment directly from the insurance company. You do not have to pay for any portion of the repair except your deductible and/or any betterment if it applies. The vehicle owner is ultimately responsible for the authorization of, and payment for, the repairs. The insurance company cannot authorize repairs, only the owner can.
Does my insurance company pay you or reimburse me?
It's your choice. By signing a "power of attorney and a direction to pay" form that we can provide you with, you can authorize us to collect payment directly from your insurance company. Most people prefer doing it that way. If you choose that option, you are only responsible for paying us the deductible and/or betterment portion of the repair bill. Again, it's your choice.
Will the repairs start immediately after I drop off my car?
Your appointment time is to drop off the vehicle and have your collision consultant answer any questions you may have. Repairs will begin shortly there after.
How long will the repair take?
Every accident situation is different and our collision consultants use a very sophisticated system to estimate the extent of the damage to your vehicle. From there, it's a routine matter to estimate the cost of the repairs and how long the repairs will take. However, it's important to keep in mind that once the repair process begins, undetectable conditions may be revealed. This may require additional repair time and parts. If this happens, your collision consultant will notify you immediately. In fact, your consultant will contact you as often as you like to update you on the status of your vehicle.
Can someone take me home or to work after I drop off my car?
Absolutely. We have a free courtesy shuttle to take you home or to work.
How do I get a rental car?
Most insurance companies will help you with this, if not we can set up all reservations for you.
Will my car be as good as it was before the accident?
The answer is yes. Our technicians are extremely well trained in the use of state-of-the-art repair equipment and methods, ensuring that your vehicle will be returned to it's pre-accident condition. Obviously, that doesn't mean it will be like new, since it wasn't new when the accident occurred.
Are the repairs guaranteed?
All repairs preformed at Larry H. Miller Collision Centers carry a limited lifetime warranty, and the warranty is honored at all Larry H. Miller Locations.
Collision Center


Larry H. Miller Subaru Boise

222 Auto Drive
Boise, ID 83709

Collision Center      (208) 947-6578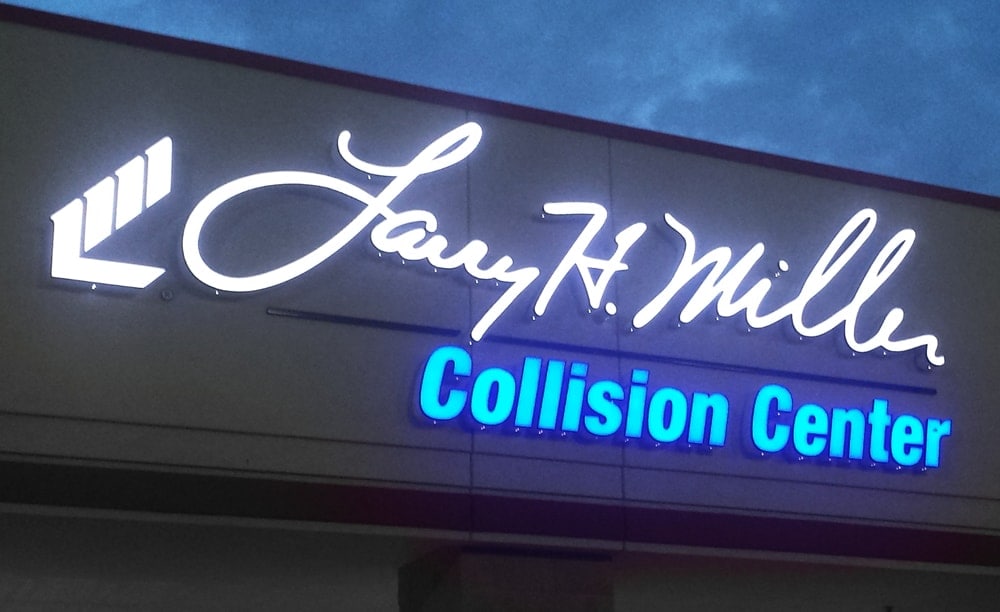 Collision Center Hours
Monday

7:00 AM - 6:00 PM

Tuesday

7:00 AM - 6:00 PM

Wednesday

7:00 AM - 6:00 PM

Thursday

7:00 AM - 6:00 PM

Friday

7:00 AM - 6:00 PM

Saturday

8:30 AM -12:00 PM

Sunday

Closed
Reception
When you enter a Larry H. Miller Collision Center, you will be greeted and presented with a brief form to fill out for an estimate.
Estimating
An experienced Collision Consultant will prepare your estimate, using State-of-the-art software. The Collision Consultant can answer any of your insurance or repair concerns. We are now offering a Mobile Estimate service if you can't make it to the shop, we will come to you! Call us for more details.

Customer Service
The Collision Consultant will go over the estimate with you and obtain insurance authorization (when applicable) while you wait.With estimate in hand, you'll also receive an actual appointment date, telling you exactly when your vehicle can be admitted for repairs. The Collision Consultant will update you by phone during the repair process.
Car Rental

Because of our relationship with various rental agencies, your car rental can be conveniently handled at the time of your appointment.
Tear Down
Your vehicle is prepared for repair, and all damaged parts are removed.if hidden damage is revealed, you (and your insurance company, when applicable) are immediately contacted.
Frame Work
Our Genesis laser frame diagnostic system and Chief frame machines ensure extremely high accuracy for frame repairs, returning your car to pre-accident condition.
Metal Work
Sheet metal repairs are handled in dedicated bays equipped with the latest equipment, like those used by automobile manufacturers.At that time corrosion protection is restored to your vehicle.
Paint
BASF paints and clear coats, the same coatings applied at the factory on most of today's vehicles, are used exclusively in our state-of-the-art paint booths.
Reassembly
After repairing, the vehicle is reassembled to manufacturer specifications.
Inspection
All aspects of the repair are inspected to factory tolerances, from partsfit and alignment to the gloss of the refinish work.
Detailing
Once the repairs have been approved by our technician, the vehicle is thoroughly cleaned in preparation for delivery to you.
Delivery
A final inspection is performed and your Collision Consultant presents you with your vehicle, noting all repairs made and providing you with any follow-up instructions. Such as paint care, 30 day check-up etc.
Boise Subaru
Auto Body Repair
Larry H. Miller Subaru Boise

Payments Accepted: Cash, Check, All Major Credit Cards

Body Shop Point of Contact: James Clark
11196 West Fairview Ave.

,

Boise

, 

ID

83713

  
Body Shop Phone Number: (208) 947-6578