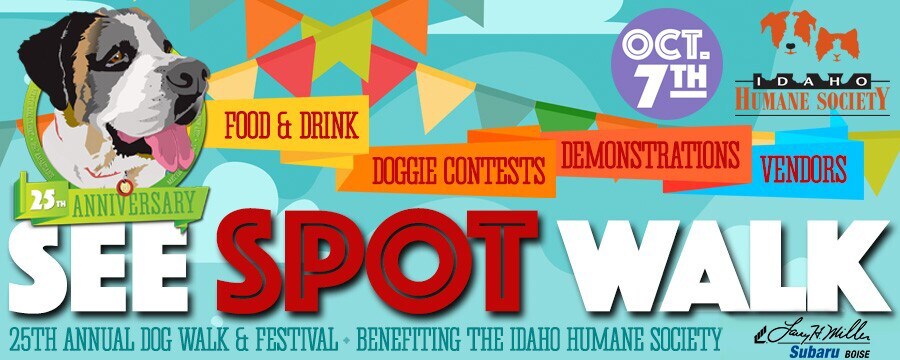 Larry H. Miller Subaru is Proud to be a Best in Show Sponsor of See Spot Walk!
Join us in supporting the Idaho Humane Society!
We are thrilled to sponsor the See Spot Walk event hosted by the Idaho Humane Society, and hope that you will join us on Saturday, October 7th, 2017. Event begins at 9am at Julia Davis Park.
Join Boise area dog lovers for a day of fun in the park, with lots of events, vendors, contests, and more! The purpose of this event is to raise funds for homeless animals in the Treasure Valley.
Who:
Your friends, your kids, your dog(s) and you!
What:
A 1-mile dog walk through the park + vendors, contests, demonstrations, food and more
Why:
To have fun and raise money for homeless animals
Where:
Julia Davis Park Band Shell
When:
Saturday, October 7, 2017- Festivities 9:00, Walk 10:00 (Participate with or without your dog!)
Register in advance, or the day of the event for additional cost.
Visit
HERE
for registration details.
---
FAQ's from the event website:
Is the registration fee per person or per dog?
The registration fee is per person and includes one dog scarf. You may bring more than one dog but they must be under control at all times.
Do I have to pay the registration fee if I just want to participate in the walk?
Although it is not a requirement, we encourage every participant to be registered. The Idaho Humane Society assists over 13,000 animals every year.  We rely on donations from individuals and funds raised from special events like See Spot Walk to keep our animal shelter running. Every registration benefits the animals at the Idaho Humane Society. 
How do I register my dog for the contests?
  In your registration packet you will find an entry form.  Submit your form at the "Contest for Talented Dogs" table near the band shell.

What time does See Spot Walk start? 
The festivities begin at 9:00, the walk begins promptly at 10:00.  After the walk, return to the park for games, contests, prizes, entertainment, food and vendor booths.
Where does See Spot Walk take place?
The festivities will take place at the Julia Davis Park Band Shell, off Capitol Blvd. near the Boise Art Museum. The 1 mile walk begins at the entrance to the park, and proceeds east through Julia Davis Park. 
What happens if it rains on the day of the event?
See Spot Walk will take place even if it is raining cats and dogs.  So, come and enjoy all the dog-gone fun even if it is a little wet - your dog won't mind!
For all FAQ's, click
HERE.