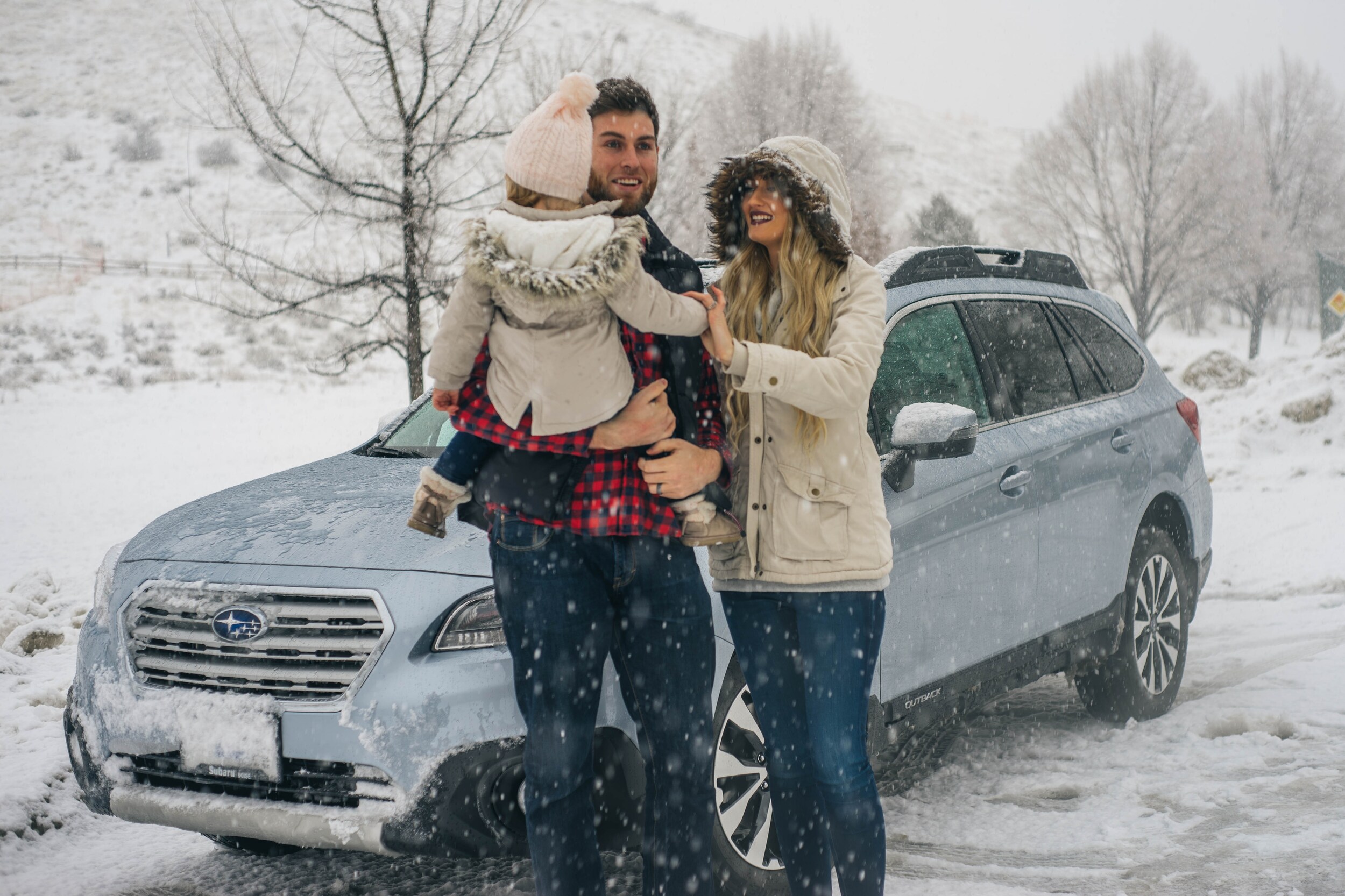 As a Subaru owner, you're used to driving with confidence in any weather. However, weather can take a turn for the worst—and it's crucial to be prepared so you can arrive at your destination safely.
Consider these six things before you hit the road this winter.
Don't warm up your vehicle in the garage
Running your vehicle in an enclosed space such as your garage is a recipe for disaster. Even with the garage door open, toxic gas fumes can build up and have lethal consequences. Open your garage door and only start your car when you're ready to leave, then back out safely.
Never drive when tired
It's important to be well-rested before you get behind the wheel. Staying alert to your surroundings helps you avoid slick spots, accidents, road hazards and other vehicles, and it keeps you and your passengers safe from harm. If you start to feel fatigued while driving, consider checking into a hotel for the night to rest and recharge.
Keep your gas tank at least half full
Aside from running out of gas while driving (which is never a good—or safe—spot to be in), keeping your gas tank full or at least half full helps to prevent gas lines from freezing up in chilly conditions.
Be mindful of slick roads
If you happen to be driving where snowy weather is the norm, you're probably aware of what snow can do to the roads because of what you see—white, snow packed roads mean slow, careful driving. But what about ice? Icy roads can be tricky to see, especially at night. Avoid using cruise control at night and anytime you're driving on slick surfaces, and drive slowly. And, as always, be prepared for the worst—review these tips for controlling your vehicle when it skids from Subaru partner Liberty Mutual Insurance so you know just how to handle this would-be-scary experience.
Pay attention to your tires
It's important to keep your tires properly inflated in any weather. This becomes more important than ever during the winter months. Over or underinflated tires negatively affect handling and braking performance, which is especially dangerous on slick or snowy roads.
Tire tread levels also play an important role in driving safety. Bald tires have minimal to no traction on slippery roads, causing your vehicle to skid. Whenever possible, consider swapping out your existing tires with winter ones—they're made for driving in challenging conditions.
If you're in need of new tires for your Subaru, please give us a call or stop by! Our friendly and knowledgeable staff can help you find the right tires for your vehicle and answer any questions you may have about proper tire inflation and tread levels.
Use your seatbelt
It might not seem like much, but securing yourself and your passengers with seatbelts can keep everyone safe and secure in the event of an accident. Safety first!
Come see us
If you have questions about safe winter driving, we have answers. We're here to take care of all your Subaru needs. Give us a call or stop by today!
References:
https://www.subaru.com/content/subaru/en/owners/vehicle-care-tips/nine-winter-driving-tips.html
https://www.libertymutual.com/masterthis/skid-control
https://info.kaltire.com/need-know-worn-tires-winter/
https://www.extension.iastate.edu/Pages/communications/CO/co_car.html